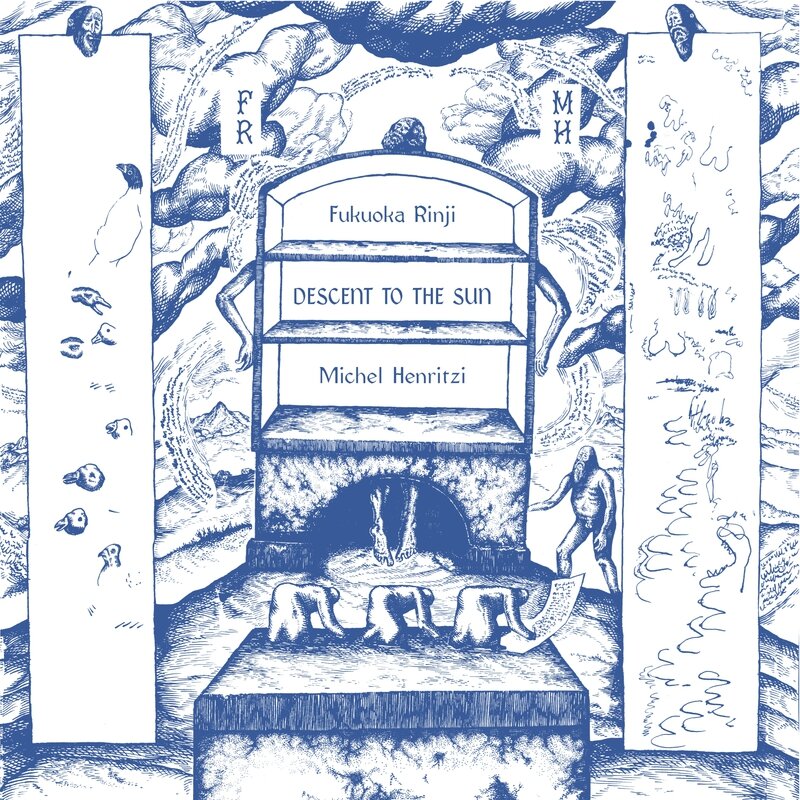 sleeve artwork by wouter vanhaelemeesch
Troisième opus du duo formé par Rinji Fukuoka et Michel Henritzi : « Descent to the Sun » est un hommage à Henry Flynt et au Dream Syndicate ; musique des sphères tournant derviches, immersion psychédélique et implosion velvetienne. Le violon électrique et les cordes du lapsteel dessinant des mantras aux couleurs sombres où dansent des fantômes harmoniques saturés d'électricité. Musique improvisée extatique s'appropriant les idiomes d'un folk catatonique, d'un rock abrasif, d'un psychédélisme incandescent. Le temps s'allonge à l'infini, obscurcissant notre perception à travers d'infimes variations de couleurs, un bourdon infini. Musique spectrale aux motifs répétitifs qui évoque celle de Tony Conrad, hypnose sonique ouvrant un abîme dans notre entendement, l'orage ? Rock around the clock, le temps meurt ici dans ce trip psychédélique.
« Descent to the Sun » fait suite à « Outside Darkness » paru sur le label japonais PSF et « Le Jardin Bizarre » sur An'archives.
This is the 3rd opus from the Rinji Fukuoka & Michel Henritzi duo : "Descent to the Sun" is a tribute to Henry Flynt and to the Dream Syndicate ; here is a music from the spheres as soon as they start rotating like dervishes, here is a total psychedelic immersion, a velvetian implosion. Rinji Fukuoka's violin combined with Michel Henritzi's lapsteel strings draw dark coloured sonic mantras where harmonic ghosts saturated by electricity are dancing. Both of them provide an improvised ecstatic music which seizes the idioms of a catatonic folk, of an abrasive rock, of an incandescent psychedelism. Here, the growing time tends towards infinity while darkening our perception through tiny variations of colours just like an infinite drone do. Here comes a spectral music made of repetitive patterns that remind us of Tony Conrad's one, a sonic hypnosis that opens an abyss through our understanding, or is it a thunderstorm ? Rock around the clock as time is now dying from this psychedelic trip.
"Descent to the Sun" is the follower to "Outside Darkness" issued on the japanese label PSF and also to "Le Jardin Bizarre" issued on An'archives.