22.01.21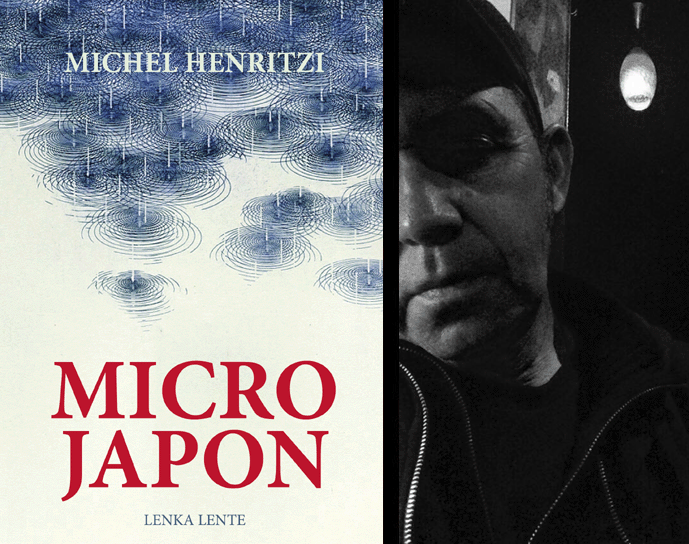 MICHEL HENRITZI
MICRO JAPON
LIVRE 380 PAGES
27 EUROS
MARS 2021
http://www.lenkalente.com/product/micro-japon-de-michel-henritzi
Venu à la musique du Japon à la fin des années 1980, par l'écoute d'Hijokaïdan, Michel Henritzi n'a depuis cessé d'en explorer les nombreux et divers territoires. Après sa rencontre avec Taku Sugimoto, il fait un premier voyage au Japon : « Je suis tombé littéralement amoureux de ce pays et de ses musiques, celles de la vie et du quotidien, ses bruits exotiques, ses musiques multiples qui se jouent dans des clubs minuscules, des galeries d'art, des live houses apocalyptiques. C'était comme tirer un fil d'une pelote de laine, se déroulant à l'infini des rencontres, des concerts. L'underground nippon se révélait d'une richesse insoupçonnée, plurielle, innovante. » C'est cette richesse que met au jour la quarantaine d'interviews – inédites ou publiées au fil des années dans Revue & Corrigée, Peace Warriors & Blow Up – de Micro Japon.
En participant à faire découvrir les scènes expérimentales japonaise et néozélandaise, ses écrits pour Revue & Corrigée ont représenté chez nous un équivalent de ceux des Anglo-Saxons Nick Cain (dans Opprobrium) et Alan Cummings (dans The Wire). En plus d'avoir pris part au réductionnisme par le biais de son label À Bruit secret, Michel Henritzi fait partie des groupes Dustbreeders, O'Death Jug et joue régulièrement avec Junko (Hijokaidan) et Rinji Fukuoka (Majutsu No Niwa). [Philippe Robert, Agitation Frite 2]
En 2007, Michel Henritzi a obtenu la bourse de la Villa Kujoyama à Kyoto, récompense qui a rendu possible son patient travail de documentation.
24.10.20
Masayoshi Urabe 3LP Box Mobilis In Mobili
silk-screened wooden slipcase with inserts and a 6 postcards set
Edition of 285, Liner notes by Michel Henritzi
Catalogue number : [An'21] Label : An'archives Release date : 27 November, 2020
Contact - wholesale : anarchives@sfr.fr – clerouley@free.fr
Distribution in UK : This Ain't Distribution / Japan Blues
Shop in Paris & distribution in France : Souffle Continu
An'archives presents three documents, three vinyl records carved by the illuminations of Masayoshi Urabe,
six performances engraved like epitaphs in the stone that covers the Living World.
These are recordings made in small suburban venues in Japan where Urabe would play in front of a
meagre audience: the Bitches Brew in Yokohama, the Groove in Okinawa and the Gari Gari in Tokyo.
In the corridors of cult label P.S.F. Records, Urabe came across the likes of Kan Mikami, Chie Mukai, Rinji
Fukuoka, Hiroshi Hasegawa, with whom he played, and sometimes recorded albums of unfathomable
beauty. But he is most disturbing, luminous and dark, violent and poignant, during his solo sets. Hideo
Ikeezumi (the cultural ambassador behind P.S.F.) supported him more than others and tried to offer him all
the space he could hope for.
His only kindred spirits are Kaoru Abe and Albert Ayler, with whom he shares a sense of tragedy, the same
jealous string to swing into the sound, to turn the heavens over to our feet. Urabe mates with his alto sax,
assaults it, snuff jazz calling fallen angels to come and haunt us.
Death, like Eros, haunts Masayoshi Urabe's body of work, and unravels through copper sounds. He follows
the sound, inhales it, spits it like an air bag turned inside out until exhaustion, violent, playing and dancing,
willing the front rows to give in to his murky eroticism.
Urabe is a magnificent musician, even though he ends up trashing everything, leaving only a mutilated
musical body behind. Strangled notes, no melody, just breath, spat air, un chant d'amour.
12.10.20
Dustbreeders with The Only House In Town (213 RECORDS 213v52 / FOUGÈRE #38 / ÉLEVAGE DE POUSSIÈRE EPP10 LP) – one of two records by this French noise band with Japanese vocalist to be noted within this section. Yves Botz, Thierry Delles and Michel Henritzi bring together their massed guitars for two sides of extremely dense and monotonous noise, amps turned up way beyond 11, with mad feedback squeals sometimes bursting in on the single-chord pile-up. On the A-side (which spins at 45 RPM, so watch out), vocalist Junko adds her typical vocal howlerage, though she seems buried under layers of guitar noise, the distance thus taking the edge off her usual shrillness. I enjoyed the instrumental B-side (which spins at 33 RPM) slightly more, where the guitars scrape and burn with some aural variations in the texture. This music is like a jet engine or rocket ship in constant take-off mode, yet never arriving anywhere. Why must the title be so "drastic" – the only house in town? It seems a feature of some noise artistes that they must insist on this all-or-nothing stance at all times, even when ordering candyfloss at a funfair or brewing the morning coffee. As to that cover art, I suppose it's meant to suggest the inside of someone's skull and the view from inside empty eye sockets. From 25 November 2019.
Ed Pinsent in Sound Projector Magazine
Dustbreeders again with their album The Missing Bar (213 RECORDS 213v40 ) and its notorious "sofa" cover photo which has been scandalising most of Europe since its release. Yves Botz, Thierry Delles and Michel Henritzi belt it out again with their outsize guitars (one of them is twelve feet square), this time making a return to use of the beloved "mange-disques" device on one track, an oddity which I recall when I first heard these monsters on their 2003 release, Mommy Close The Door. Junko also shrieks in places; I always find it an alarming sound emanating from her closed-up throat, and perhaps it's meant to be, but I realise the Dusters explicitly regard this singer as their "Japanese sister" and clearly feel they share common ground. In some ways, what these Frenchmen achieve is a slightly more intellectual version of Hijokaidan. Despite all the flailing around and the attempts to raise hell at Cave 38 in Metz, I still sense half their force is wasted when it could be better directed, for instance powering a hydro-electric dam. I liked the B side better, where the guitars are so closely aligned they produce a solid block of avant-garde heavy metal blasting, without disappearing down the miserable dead-end of a Sunn O))) drone of futility. Completists will want to note this LP contains a non-vocal version of their hit single, 'The Only House In Town', also on the LP noted above. From 3rd August 2018.
Ed Pinsent in Sound Projector Magazine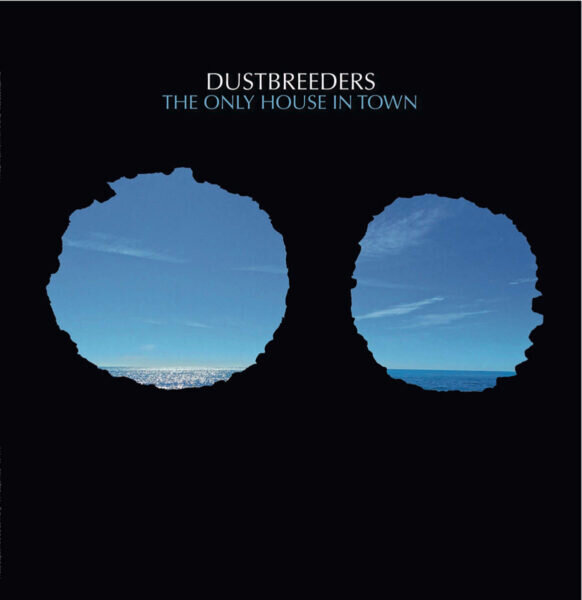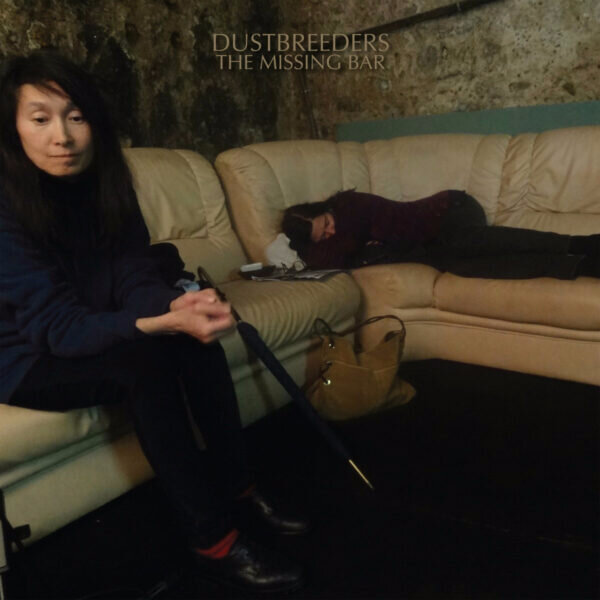 29.09.20
TETUZI AKIYAMA / MICHEL H "s/t" (CD) Dyin'Ghost Records (Fra) - 2021
KATHY ACKER & NOX "Love, Emily" (LP) - 2021
28.09.20
Got a couple of recent Michel Henritzi items from November 2019. The cassette tape Music For Nothing(TANZPROCESS tzpCS64) is a solo recording made in 2019 in Japan by Michel with his typical lapsteel guitar. I like the single-minded drive of this one, the main "thrust" of Side A comprising a rattling strum effect played in a minor key which conveys the notion of being carried on a death-cart of some sort, a rackety old carriage pulled by a bony horse and driven by a skeleton. Somehow, he proceeds to add noise and feedback squawl to the performance, turning it into an alarming and crucial performance to rank with anything Haino has blasted out. 13:29 thrilling mins of abrasive rockabilly avant-scuzz. On the B side, the strumming technique is replaced by a wild slide-action gesture that makes the strings scream out in a truly wobbly fashion, and it's not long before Mister H warms up to the task and starts leading the python down a particularly noisy pathway. Minor key dominates again; his strings must be permanently tuned to A Minor.
Ed Pinsent in Sound Projector Magazine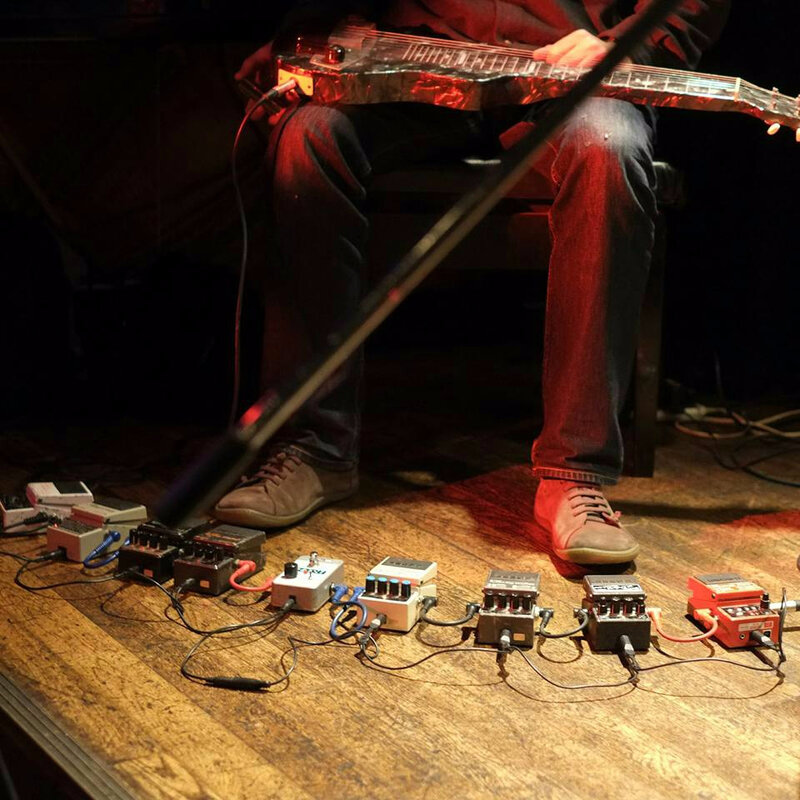 15.07.20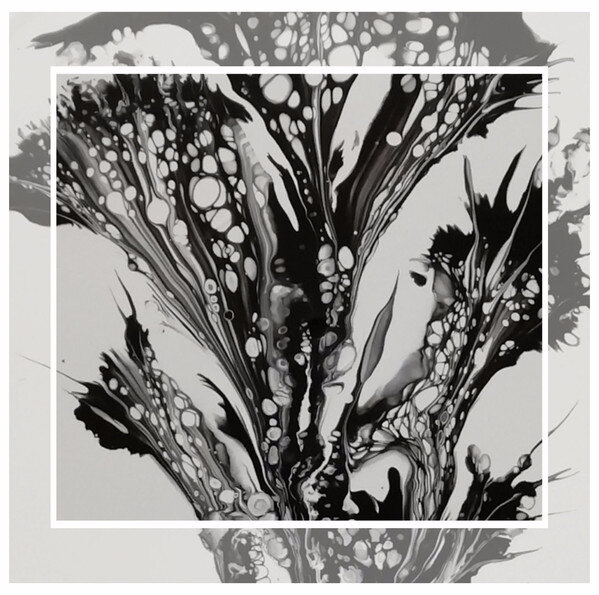 Recent record from the French lapsteel guitar improviser Michel Henritzi is called We Were There(KLAGETO 1), released on the German label E-Klageto (a sub-label of Psych.KG). Henritzi has long been associated with Japanese underground music – improv, onkyo and noise – and besides running his own label that documented a lot of that material, he seems to be friends with many of the major players and has recorded and performed with them, most regularly with Fukuoka Rinji. Today's record sees him teaming up with the great Ikuro Takahashi. Takahashi is probably best known for drumming with some of the major Japan underground rock groups, including LSD March, Kousokuya, High Rise, Overhang Party, Psychedelic Speed Freaks, and even Fushitsusha; but he's also appeared with major improvising combos such as Ché-SHIZU. Even this doesn't begin to cover the extent of his achievements, and I myself was won over in 2004-2005 by two records that weren't rock music at all, but rather instances of his compelling and mesmerising minimal electronic chirping released by Siwa.
This CD is 48 minutes of non-stop percussion and drone groove recorded in 2018; if I had to try and characterise it, one could describe Takahashi's restless percussive work, generating a constantly-pulsing cloud of strange energy; he seems to be pushing the music one way (or rather rolling it through the cosmos like a gigantic ball of anti-matter), while Henritzi is dragging it backwards in the other direction, by his slow-moving and ponderous (amplified?) guitar drone. This is about the closest I've heard Henritzi come to emulating the sound of Haino, but his characteristic minor-key pessimism is still very much in evidence, especially on the earlier half of the record. While this isn't a completely remorseless performance – there are plenty of breaks in the programme, chances to rest and catch your breath, and some very ably-controlled dynamics – it is still very maximal, every blank space filled with sound and action, delivering a marathon listening session that requires a lot of stamina on the part of the listener, simply to even keep up with what these powerful musicians are doing.
Released in a seven-inch wallet with outsize artworks. From 31 December 2019.
Ed Pinsent in SOUND PROJECTOR MAGAZINE
http://www.thesoundprojector.com/2020/06/25/there-we-went/
03.04.20
FUKUOKA RINJI MICHEL HENRITZI "DESERT MOON" PATAPHYSIQUE 2018
Fukuoka Rinji et Michel Henritzi ont déjà beaucoup enregistré ensemble. Le premier au violon électrique, le second à la guitare lap-steel, ils se retrouvaient récemment pour l'enregistrement des six pièces de Desert Moon – cinq improvisations et ce Sombre Dimanche qu'il faut croire hongrois, interprété avec Junko et Dana Valser aux voix.
La composition en question est d'abord une lecture bientôt doublée d'une autre dont le sens échappe peu à peu à l'auditeur dont l'étourdissement n'est plus qu'une affaire de secondes : un emportement collectif accouche en effet d'un grand et beau morceau de bruits que le violon teinte de mélancolie. Peut-être est-ce l'art de Fukuoka Rinji qui installe une ligne mélodique dans la conversation : sur le morceau-titre, il transforme une courbe en trajectoire qui le mène aux portes d'un paysage terrible où une poignée de sirènes jouent de dissonances ; sur Hungarian Snake Dance, c'est un chant des steppes entêtant ; sur Inside Of the Penitence Box, un folk bruitiste s'arrange très bien de dissensions.
Ailleurs, si les musiciens peuvent sembler évoluer sur des rails parallèles (Song for Nico) ou faire œuvre d'introspection (Ballad Of Joseph K, sur laquelle la guitare ploie sous les coups), leur entente ne perd rien de son invention, ni de sa force. C'est que le cinquième album qu'ont en commun Fukuoka Rinji et Michel Henritzi dessine une carte que l'on ne peut saisir qu'en suivant la route tracée par ses aspérités. [guillaume belhomme in Le Son du Grisli #5]
10.03.20
Michel Henritzi – guitars, lapsteel, amp ...
From abstract blues to noise.
Performed and recorded with : Kumiko Karino, Junko (Hijokaïdan), Rinji Fukuoka, A Qui Avec Gabriel, Masayoshi Urabe, Chie Mukaï, Tamio Shiraishi, Mico K.Mical, Yukiko Nakamura, Yoko Higashi, Tetuzi Akiyama, Taku Sugimoto, Shin'ichi Isohata, Toshimaru Nakamura, Masafumi Ezaki, Ami Yoshida, Ito Atsuhiro, Jojo Hiroshige, Fumio Kosakai, Sei'ichi Yamamoto, Mochiyuki Harutaka, Tomoyuki Aoki (Up-tight), Akiko Hotaka, Ikuro Takahashi, Yuki Fuji & 231" (Sarry), Kiyoharu Kuwayama, Tetsuo Furudate, Ibuki Kuramochi, Dot.es, Eddie Marcon, Mattin, Bruce Russell, Miguel Prado, Ivar Grydeland, Jerome Noetinger, Luca Massolin, Quentin Dubost, Bruno Fernandes, Yves Botz, Thierry Delles, Xtof Sorro, Julien Louvet, Nicolas Moulin, Fergus Cullen, A (aka Greg Henrion), Aya Onishi & the Nihilist Spasm Band.
Member of : Dustbreeders (w. Yves Botz and Thierry Delles), Howlin'Ghost Proletarians (w. Fabrice Eglin), Mile of String (w. Thierry Delles) O Death Jug (w. Christophe Langlade) Dana Valser (w. Eva Fernandez and Christophe Langlade)
Concerts in : France, Japan, Switzerland, Portugal, Spain, Belgie, Neederland, Germany, Danemark, England and Ireland.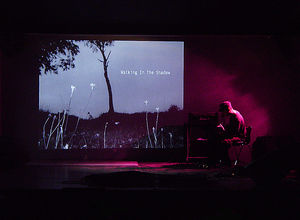 Discography :
Michel Henritzi "Music for Nothing" on TanzProcess (Fra) 2020
Michel Henritzi & Ikuro Takahashi "Kage No Hikibi" on Soleils Bleus (Fra) 2020
Michel Henritzi & Ikuro Takahashi "We Were There" on Klageto (Ger) 2020
O'Death Jug "Owls Die At Dawn" on Dyin' Ghosts Records (Fra) 2019
Michel Henritzi, Mochizuki Harutaka, Yuki Fuji "Shiroi Kao" on An'Archives (Fra) 2018
Michel Henritzi & Rinji Fukuoka "Desert Moon" on Pataphysique Rec. (Jap) 2018
Michel Henritzi & A Qui Avec Gabriel "Koyonaku" on Bam Balam (Fra) 2016
Michel Henritzi & Rinji Fukuoka "Dark Carnival" CDR on Dyin Ghost Rec 2016
O'Death Jug "Magnetic Fields" CDR on Dyin Ghost Rec (Fra) 2016
Dana Valser "Antiguo" CD on Three-Four Rec (Switzerland) 2016
O'Death Jug "Dusted" CDR on Dyin Ghost Rec (Fra) 2015
Michel Henritzi & junko "Behind the Door" CD on Blossoming Noise (USA) 2015
Michel Henritzi & Rinji Fukuoka "Descent to the Sun" LP on Bambalam (Fra) 2014
Junko "Noise of Voice" 5XCD + 1DVD (jap) 2014
O'Death Jug "The Ballad of Sad Cafe" CDR N.O.T (Fra) 2014
Michel Henritzi & Rinji Fukuoka "Eclipse in Berlin" Cassette (Fra) 2014
Junko "Voice & Destoroy" 2XCD Teichiku (jap) 2014
Michel Henritzi / Junko / Rinji Fukuoka "Billions Years of Sight" split LP An'archives (Fra) 2014
Michel Henritzi & Junko "Moi Non Plus / Shibari" 7' Anarchofreaks (fra) 2013
Michel Henritzi "Yokohama No Shadows" CD - Dyin' Ghosts (fra) 2013
Michel Henritzi & Rinji Fukuoka "Le Jardin Bizarre" CD - An'archives (fra) 2013
Michel Henritzi & Junko "Fear of Music / Berlin, w.Love" 7' - L'Esprit de l'Escalier (usa) 2013
Michel Henritzi & Junko "Live/Dead" CDR - Les Champs Brûlent (fra) 2012
Michel Henritzi & Rinji Fukuoka "Outside Darkness" CD - PSF (japon) 2011
Michel Henritzi "Walking in the Shadow" CDR - N.O.T (fra) 2011
Michel Henritzi "Kyoto No Tsuki & Dyin' Shadows" CDR - Dyin Ghost Rec. (fra) 2011
Michel Henritzi & Junko "Berlin No Tsuki" CDR - Tochnit-Aleph (germany) 2010
Michel Henritzi, Junko & E+S=B "Dublin No Tsuki" CDR - Last Of Our Kind (ireland) 2009
Michel Henritzi, Junko & Masayoshi Urabe "Ecstasy of the Angels" CD - Opposite (usa) 2009
Michel Henritzi "Shinjuku Blues & Whispering Shadows", CDR - Dyin'Ghost records (fra) 2009
V.A "Inner Ends of the Coils", CDR - Nothing Out There (fra) 2009
Michel Henritzi "Walking with the Shadows" MP3 - Laraskito (spain) 2009
Michel Henritzi, Junko, Aya Onishi & Rinji Fukuoka "Live", CDR - Anarchives (fra) 2008
Michel Henritzi, Junko & Mattin "Je t'aime!" CDR - Absurd (greece) 2008
Michel Henritzi "Nothing" CDR - Dyin'Ghost records (fra) 2008
Michel Henritzi, Shin'ichi Isohata, Xavier Charles "duo(s)" CDR - o-musubi (japon) 2008
Michel Henritzi & Tetuzi Akiyama "broken blues" CDR - Absurd (greece) 2007
Michel Henritzi (feat. Bruce Russ ell, Taku Unami, Shin'ichi Isohata, Mattin) " Keith Rowe serves Imperialism " CD - wmo/r (eusk) 2006
Michel Henritzi, Rinji Fukuoka & Kumiko Karino " Live at U.F.O Club " DVD- There (japon) 2006
Michel Henritzi / Brandon Labelle / Minoru sato / Guiseppe Ielasi / Achim Wollscheid " Social Music " Book + CD - Errant Bodies (usa) 2002
V.A " Meeting at Offsite vol.1 " CD - IMJ (japon) 2002
Howlin'Ghost Proletarians "The Last Farewell" miniCDR - Nothing Out There (fra) 2009
Howlin'Ghost Proletarians " The Singer " CDR - Absurd (greece) 2006
Howlin'Ghost Proletarians " Dead Roads " CDR - Absurd (greece) 2004
Dustbreeders (feat. Junko) "The Missing Bar" LP - 214 (fra) 2016
Dustbreeders & Junko "s.t" DVDR - 0E dans l'O (france) 2006
Dustbreeders / Guilty Connector " Bells " CDR - Utsu Tapes (japon) 2003
Dustbreeders & Junko " Mommy Close the Door " CD - Starlight Furnitures (usa) 2003
Dustbreeders " Le Proces Cannibal " LP - Elevage de Poussière (france) 1999
Dustbreeders "Starship of slaves / Promenade dissonance" 7' - Non Mi Piace Rec (france)
Dustbreeders "Poem for chairs, bench & turnin tools / Cargo" 7' - Elevage de Poussière (france)
Dustbreeders "I'm Psycho 4 yur love" 7' - Elevage de Poussière (france)
Filmography
"City of Mirrors" a film by Truong Minh Quy, music by Michel H.
"April's Shadows" a film by Vincent Guilbert, music by Michel H./Rinji Fukuoka/Tetuzi Akiyama/Aqui avec Gabriel/Akiko Hotaka
"Un train pour Obaida" a film by Kristof Guez, music by Michel H.
"Heritage" a film by Benoit Perraud, music by Michel H.
"Ghost World" a film by Jerome Boulbes, music by O'Death Jug
18.01.20
06.03 Strasbourg, Diamant D'Or (DUSTBREEDERS)
24.10 Fresnes en Woevre, FESTIVAL DENSITE (DUSTBREEDERS)
13.11 Lyon, Atelier des Canulards (LISE BARKAS & M)
06.01.20
"KAGE NO HIKIBI" our new CD with Ikuro Takahashi live in Strasbourg, upcoming on Soleils Bleus (50 copies)
drawings by Baptiste Filippi
https://soleilsbleus.bandcamp.com/