Michel Henritzi – guitars, lapsteel, amp ...
From abstract blues to noise.
Perform and recorded with : Kumiko Karino, Junko, Rinji Fukuoka, A Qui Avec Gabriel, Masayoshi Urabe, Chie Mukaï, Tamio Shiraishi, Mico K.Mical, Yukiko Nakamura, Yoko Higashi, Tetuzi Akiyama, Taku Sugimoto, Shin'ichi Isohata, Toshimaru Nakamura, Masafumi Ezaki, Ami Yoshida, Ito Atsuhiro, Jojo Hiroshige, Fumio Kosakai, Sei'ichi Yamamoto, Mochiyuki Harutaka, Tomoyuki Aoki (Up-tight), Akiko Hotaka, Ikuro Takahashi, Yuki Fuji & 231" (Sarry), Kiyoharu Kuwayama, Tetsuo Furudate, Ibuki Karamuchi, Mattin, Bruce Russell, Miguel Prado, Ivar Grydeland, Luca Massolin, Quentin Dubost, Bruno Fernandes, Yves Botz, Xtof Sorro, Nicolas Moulin, Fergus Cullen, A (aka Greg Henrion), Aya Onishi & the Nihilist Spasm Band.
Member of : Dustbreeders (w. Yves Botz and Thierry Delles), Howlin'Ghost Proletarians (w. Fabrice Eglin), Mile of String (w. Thierry Delles) O Death Jug (w. Christophe Langlade) Dana Valser (w. Eva Fernandez and Christophe Langlade)
Concerts in : France, Japan, Switzerland, Portugal, Spain, Belgie, Neederland, Germany, Danemark, England and Ireland.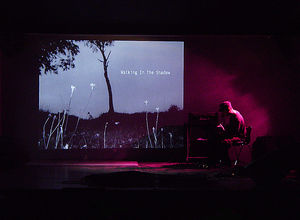 Discography :
Michel Henritzi & A Qui Avec Gabriel "Koyonaku" on Bam Balam (Fra) 2016
Michel Henritzi & Rinji Fukuoka "Dark Carnival" CDR on Dyin Ghost Rec 2016
O'Death Jug "Magnetic Fields" CDR on Dyin Ghost Rec (Fra) 2016
Dana Valser "Antiguo" CD on Three-Four Rec (Switzerland) 2016
O'Death Jug "Dusted" CDR on Dyin Ghost Rec (Fra) 2015
Michel Henritzi & junko "Behind the Door" CD on Blossoming Noise (USA) 2015
Michel Henritzi & Rinji Fukuoka "Descent to the Sun" LP on Bambalam (Fra) 2014
Junko "Noise of Voice" 5XCD + 1DVD (jap) 2014
O'Death Jug "The Ballad of Sad Cafe" CDR N.O.T (Fra) 2014
Michel Henritzi & Rinji Fukuoka "Eclipse in Berlin" Cassette (Fra) 2014
Junko "Voice & Destoroy" 2XCD Teichiku (jap) 2014
Michel Henritzi / Junko / Rinji Fukuoka "Billions Years of Sight" split LP An'archives (Fra) 2014
Michel Henritzi & Junko "Moi Non Plus / Shibari" 7' Anarchofreaks (fra) 2013
Michel Henritzi "Yokohama No Shadows" CD - Dyin' Ghosts (fra) 2013
Michel Henritzi & Rinji Fukuoka "Le Jardin Bizarre" CD - An'archives (fra) 2013
Michel Henritzi & Junko "Fear of Music / Berlin, w.Love" 7' - L'Esprit de l'Escalier (usa) 2013
Michel Henritzi & Junko "Live/Dead" CDR - Les Champs Brûlent (fra) 2012
Michel Henritzi & Rinji Fukuoka "Outside Darkness" CD - PSF (japon) 2011
Michel Henritzi "Walking in the Shadow" CDR - N.O.T (fra) 2011
Michel Henritzi "Kyoto No Tsuki & Dyin' Shadows" CDR - Dyin Ghost Rec. (fra) 2011
Michel Henritzi & Junko "Berlin No Tsuki" CDR - Tochnit-Aleph (germany) 2010
Michel Henritzi, Junko & E+S=B "Dublin No Tsuki" CDR - Last Of Our Kind (ireland) 2009
Michel Henritzi, Junko & Masayoshi Urabe "Ecstasy of the Angels" CD - Opposite (usa) 2009
Michel Henritzi "Shinjuku Blues & Whispering Shadows", CDR - Dyin'Ghost records (fra) 2009
V.A "Inner Ends of the Coils", CDR - Nothing Out There (fra) 2009
Michel Henritzi "Walking with the Shadows" MP3 - Laraskito (spain) 2009
Michel Henritzi, Junko, Aya Onishi & Rinji Fukuoka "Live", CDR - Anarchives (fra) 2008
Michel Henritzi, Junko & Mattin "Je t'aime!" CDR - Absurd (greece) 2008
Michel Henritzi "Nothing" CDR - Dyin'Ghost records (fra) 2008
Michel Henritzi, Shin'ichi Isohata, Xavier Charles "duo(s)" CDR - o-musubi (japon) 2008
Michel Henritzi & Tetuzi Akiyama "broken blues" CDR - Absurd (greece) 2007
Michel Henritzi (feat. Bruce Russ ell, Taku Unami, Shin'ichi Isohata, Mattin) " Keith Rowe serves Imperialism " CD - wmo/r (eusk) 2006
Michel Henritzi, Rinji Fukuoka & Kumiko Karino " Live at U.F.O Club " DVD- There (japon) 2006
Michel Henritzi / Brandon Labelle / Minoru sato / Guiseppe Ielasi / Achim Wollscheid " Social Music " Book + CD - Errant Bodies (usa) 2002
V.A " Meeting at Offsite vol.1 " CD - IMJ (japon) 2002
Howlin'Ghost Proletarians "The Last Farewell" miniCDR - Nothing Out There (fra) 2009
Howlin'Ghost Proletarians " The Singer " CDR - Absurd (greece) 2006
Howlin'Ghost Proletarians " Dead Roads " CDR - Absurd (greece) 2004
Dustbreeders (feat. Junko) "The Missing Bar" LP - 214 (fra) 2016
Dustbreeders & Junko "s.t" DVDR - 0E dans l'O (france) 2006
Dustbreeders / Guilty Connector " Bells " CDR - Utsu Tapes (japon) 2003
Dustbreeders & Junko " Mommy Close the Door " CD - Starlight Furnitures (usa) 2003
Dustbreeders " Le Proces Cannibal " LP - Elevage de Poussière (france) 1999
Dustbreeders "Starship of slaves / Promenade dissonance" 7' - Non Mi Piace Rec (france)
Dustbreeders "Poem for chairs, bench & turnin tools / Cargo" 7' - Elevage de Poussière (france)
Dustbreeders "I'm Psycho 4 yur love" 7' - Elevage de Poussière (france)
Filmography
"City of Mirrors" a film by Truong Minh Quy
"April's Shadows" a film by Vincent Guilbert
"Un train pour Obaida" a film by Kristof Guez
"Heritage" a film by Benoit Perraud
"Ghost World" a film by Jerome Boulbes